UPDATE: CONFIRMED FROM DEADLINE!
Deadline
:
EXCLUSIVE
:
Twilight
's
Kristen Stewart
has joined the ensemble cast of writer-director
Tim Blake Nelson
's
Anesthesia
in a small role. She'll be shooting for a few days on the indie, about a group of New Yorkers whose lives are touched by the same philosophy professor. Pic is currently filming in NYC. Nelson's last directorial effort was 2009′s
Leaves Of Grass
, which he also starred in and scripted. Stewart is repped by The Gersh Agency.
Confirmed: Kristen Stewart has joined 'Anesthesia' - but in a smallish role, now filming in NYC http://t.co/f5cpamj8eQ
— jen yamato (@jenyamato) November 3, 2013
More info on Kristen Stewart and the Anesthesia production to come but looks like those eagle-eyed NYCers weren't crazy :)
— jen yamato (@jenyamato) November 3, 2013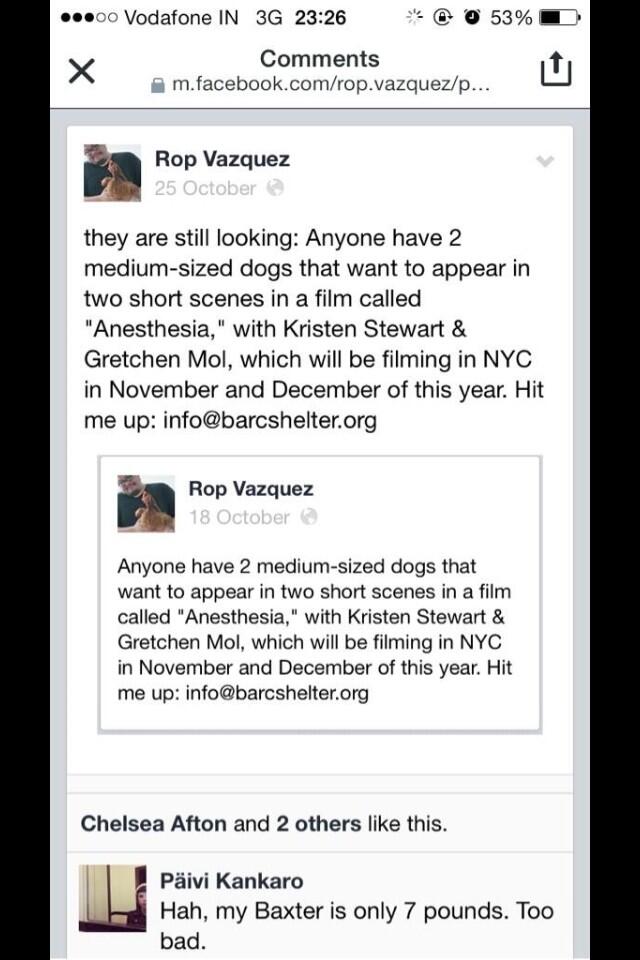 Prod Weekly info about "ANESTHESIA" Feature Film 08-22-13 
JOSH HETZLER PRODUCTIONS / ANESTHESIA PRODUCTIONS, INC.
info@joshhetzler.com
STATUS: November 3 LOCATION: New York
PRODUCER: Josh Hetzler - Christopher Scott WRITER/DIRECTOR: Tim Blake Nelson PM: Julie Buck
A group of New Yorkers dealing with various stages of life and its attendant joys and tribulations are all touched in some way by beloved philosophy
professor Walter Zarrow. (November 3 – December 10)
I have no clue what any of this means, but I'll post new information when it arrives!
UPDATE: Twitter Sightings

I see you Columbia, closing the dining halls so Kristen Stewart can film in them @FuckingColumbia
— Dylan Charles Ptáček (@Dylan_Ptacek) November 3, 2013
From
Instagram
:
On the shoot of
#Anesthesia
being extra on set with
#KristenStewart
and director
#TimBlakeNelson
🎥🎬🍕🇺🇸
@ColumbiaSchArts
#columbiauniversity
#newyorkcity
#movies
BWOG.com
: Kstew is the brunette with her head turned toward the LLC, we promise.