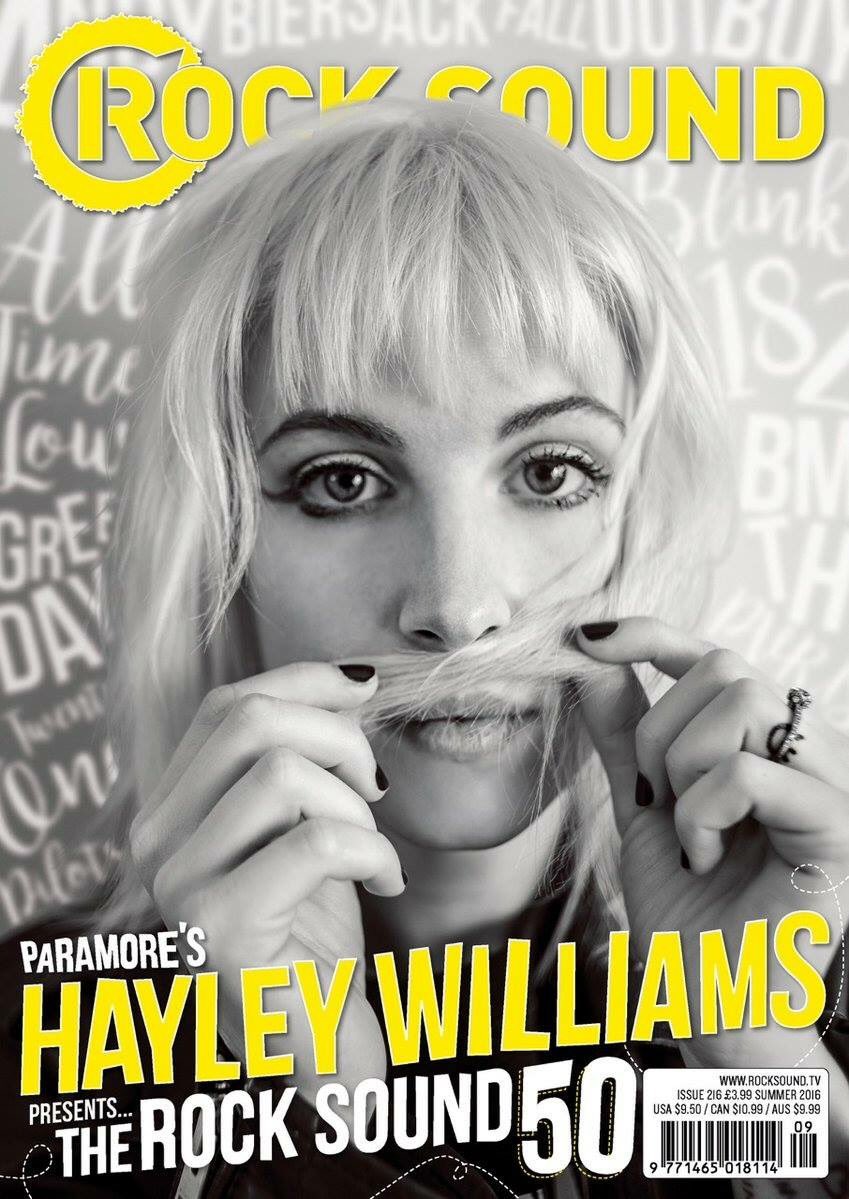 Paramore's Hayley Williams rocks the cover of Rock Sound's '50 most important, influential, inspirational people in the rock scene'!!
This month, we put together a list of the most influential, inspirational, important people in today's scene - The Rock Sound 50.
There's a huge, WORLD EXCLUSIVE interview with Paramore's Hayley Williams, plus new interviews and photos with so many awesome people who make this awesome modern rock scene what it is, whether that's the biggest bands, promoters, YouTubers or photographers.
**Also: while reading the Rock Sound, there was some very important news in regards of Paramore's next album:
So, so exciting!! And also expected, considering the band has already started recording and writing the album already. Hope a single is released soon!
Paramore's Hayley Williams presents The Rock Sound 50 in this month's magazine, and talks candidly about influence, growing up in the public eye and more.
In this extract from her world exclusive interview, she discusses how the perception of females in rock has changed, and her experiences growing up in a male-dominated scene.
IN TERMS OF THE PERCEPTION OF WOMEN IN THE ROCK SCENE,YOU'VE HAD A BIGGER IMPACT THAN ANYONE ELSE IN THE LAST DECADE. IS THAT INFLUENCE SOMETHING YOU ALLOW YOURSELF TO BE AWARE OF?
"In a way, and to a point. It's incredibly flattering obviously, but it's also difficult to accept that kind of credit. I remember reading an interview with Lynn [Gunn] from PVRIS where she was talking about going to a Paramore show as a kid, about how afterwards she knew that being in a band was what she wanted to do, and that seeing me made her feel like she actually could. That's an incredible compliment, and an incredible feeling because it's something I fully relate to.
"I remember seeing bands like No Doubt and Garbage when I was growing up – bands with strong, confident women at the forefront – and feeling like these were people I had more in common with than anybody I'd ever met in school. I looked at them and went, 'I can do that, I have that in me.' To be able to have that same sort of impact on somebody else is just incredible, especially because there was a time when we almost never saw bands with female vocalists, or even female members at all. It sounds preposterous, but in the grand scheme of things female rock musicians on any sort of wider scale is a very new thing. It's only in the last few years that people have stopped viewing the notion of a female onstage in a rock band as some sort of novelty."
WAS GROWING UP IN SUCH A MALE-DOMINATED ENVIRONMENT DIFFICULT?
"I don't think I ever realised until fairly recently how lonely I felt at times as a teenager. I grew up with virtually no girls around me in terms of companionship or friendship – I had to do a lot of catching up in my twenties – and I had an unhealthy view of my friendships with girls. I never had the normality of seeing my female friends every day in school, or working a job surrounded by other women.
"But if people believe that anything I've done or achieved has gone some way towards changing those circumstances for others, that's truly amazing. I appreciate anyone who says that."
LYNN GUNN AND JENNA McDOUGALL HAVE RECENTLY SPOKEN ABOUT HOW POSITIVE IT'S BEEN FOR THEM TO HAVE EACH OTHER AROUND ON THE ROAD AND OF THE IMPORTANCE OF FORMING THOSE FRIENDSHIPS ON TOUR. HOW DOES IT FEEL TO SEE THEM ENJOYING WHAT YOU NEVER COULD?
"It's amazing to see, and it's also incredible to watch those people really thrive at the same time. There are so many women doing well, making great art and getting recognition, which is fully deserved. I don't like to think I'm responsible for anything other than the songs that Paramore has written, but if these people have drawn any inspiration or belief from what I've done then that's awesome.
"What is even more amazing is that there's now going to be another generation of young women who are looking up to people like Lynn and Jenna. When I was starting out in a band I had to take parts of my inspiration from males, because there weren't enough women to really go around. I had to look at male musicians that I admired or looked up to and go, 'I think I can do this just as well as they can,' but I had to find my own way of relating to them.
"That so many young women will now have more immediate relationships available, and that there's so much more to be inspired by can only be a positive thing."
Read the issue on Rock Sound's app on
ITunes
, and
order online
.
The full issue releases in the UK on Wednesday, July 20.
If you found this article useful, please share it with your friends on other social media by clicking the share buttons below. Also, if you liked this blog, subscribe for more!
Thanks for reading! :) ♥