Kristen Stewart gets really honest talking about her relationship with Alicia Cargile with ELLE UK's September 2016 issue.
With Lotte Jeffs, Kristen talks about "her recent projects, and how she overcame her anxiety issues to live a more honest and happy life."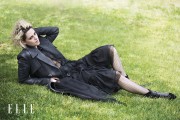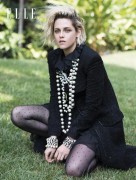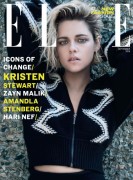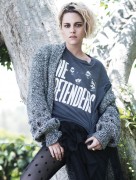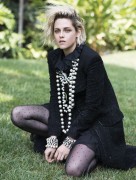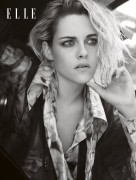 BTS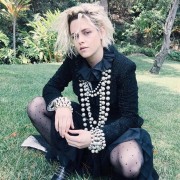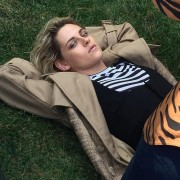 Video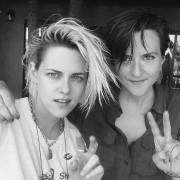 Interviewer Lotte Jeffs: In June I went to Los Angeles to interview Kristen Stewart for ELLE UK's September issue cover. As my Uber dropped me at the door to her house and drove off, I got a message to say our meeting had be pushed back an hour. I was stranded at the top of a hill in an affluent gated community in the mid-day heat, wearing a boiler suit which in retrospect must have made me look even more suspicious as I trekked back down the hill past palm-fringed mansions with scary dogs outside that barked aggressively at me. I then had to squeeze myself through a gap in the gate to exit, because this being LA, it only opened for vehicles. With 30 minutes to kill and no coffee shops within walking distance I sat, sweating, on a patch of grass by the side of the road, looking like some kind of escaped convict.
Needless to say by the time I made it back up to Kristen's front door I was a hot mess, but she welcomed me in, gave me a cold glass of water in a jam jar (of course) and then we hopped in her car to run some errands, which included going to vote for the Democratic nominee.
An hour or so later, back in her living room, drinking iced lattes we got to talking.
I found Kristen great company; funny, bright, engaging and best of all happy and grounded. We talked about her work, including her first foray into directing, how she overcame anxiety and her love for her girlfriend- who she told me is not, nor has ever been her personal assistant!
Read the full story in ELLE's redesigned September issue on sale August 3.
Preview of the interview:
Kristen Stewart talks openly to ELLE UK about her recent projects, and how she overcame her anxiety issues to live a more honest and happy life.
On her recent projects and enjoying her work: 'I have a really strong sense of identity when I'm working. If I'm having a bad day or something personal, or existential, or hormonal – if anything brings me down, I'm lucky if I have to go to work that day. And it could be anything, it could be a photoshoot for Chanel."
On her positive outlook: 'I obviously hope everything going on right now will work out, but I am confident that life is good and I'll be OK whatever happens. So in moments when that is cloudy and I feel saturated and unable to engage in how good life can be, however consuming those feelings are, they are so momentary…I'm think pretty good at being happy.'
On her previous struggles with anxiety: 'I went through so much stress and periods of strife. I would have panic attacks…I literally always had a stomach ache. And I was a control freak and I couldn't anticipate what was going to happen in a given situation, so I'd be like, 'Maybe I'm going to get sick'... It's kind of remarkable. I just grew out of it, but that's not to say I don't get worried.'
On her love for girlfriend Alicia Cargile: 'I think also right now I'm just really in love with my girlfriend. We've broken up a couple of times and gotten back together, and this time I was like, 'Finally, I can feel again.'
On being more open about her relationship: 'When I was dating a guy I was hiding everything that I did because everything personal felt like it was immediately trivialised, so I didn't like it. We were turned into these characters and placed into this ridiculous comic book, and I was like, 'That's mine. You're making my relationship something that it's not.' I didn't like that. But then it changed when I started dating a girl. I was like, 'Actually, to hide this provides the implication that I'm not down with it or I'm ashamed of it, so I had to alter how I approached being in public. It opened my life up and I'm so much happier.'
Kristen Stewart stars in Café Society, in cinemas 2 September. The September issue will be available on newsstands from 3 August.
Interview Lotte Jeffs Photography Liz Collins Styling Anne-Marie Curtis Clothes Chanel
If you found this article useful, please share it with your friends on other social media by clicking the share buttons below. Also, if you liked this blog, subscribe for more!
Thanks for reading! :) ♥