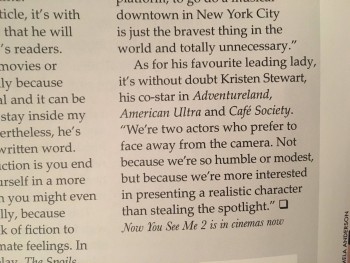 As for his favourite leading lady, it's without doubt Kristen Stewart, his co-star in Adventureland, American Ultra and Cafe Society. "We're two actors who prefer to face away from the camera. Not because we're so humble or modest, but because we're more interested in presenting a realistic character than stealing the spotlight."
Ain't that the truth! ♥
Thanks to
Mel452
for the scan.
If you found this article useful, please share it with your friends on other social media by clicking the share buttons below. Also, if you liked this blog, subscribe for more!
Thanks for reading! :) ♥