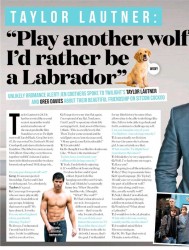 Can you imagine any of your Twilight co-stars doing comedy?
Taylor: I can actually see Kristen Stewart, because she's a funny girl. I can certainly see that.
Funny, because he attended the premiere of her comedy-action film
American Ultra
last year. Was that not a comedy? LOL!!
If you found this article useful, please share it with your friends on other social media by clicking the share buttons below. Also, if you liked this blog, subscribe for more!
Thanks for reading! :) ♥